Smartrak is at the forefront of developing fleet visibility and reporting tools to enable more efficient fleet management. We're actively developing new tools that will provide the insights to identify where change can be made and the means to accurately measure progress.
One of these tools is our API suite. An API (Application Programming Interface) provides customers with a way to access Smartrak's raw data. This allows customers to share the data our solutions produce with other software packages and expand the range of options available.
We're excited to announce that we're launching two new APIs that will streamline the management of fleet vehicles and users. These are the Geofences and Groups APIs.
Geofence API
Our new Geofence API gives organisations the ability to bulk import geofences from an external database. This is especially handy if you're managing hundreds or thousands of virtual locations in your Smartrak map. It will also reduce time spent managing access by syncing updates automatically from multiple authorised parties and databases.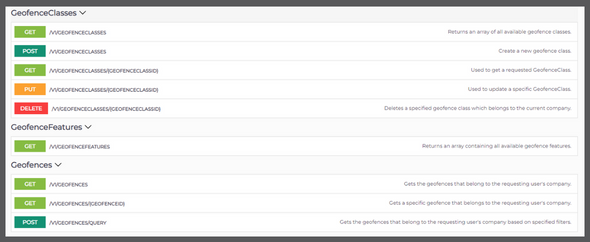 Groups API
The Groups API gives organisations the ability to assign vehicles to groups, and automatically update permissions to all authorised parties. This will reduce the time spent managing vehicles and assets when groups change and will enhance reporting capabilities and insights generation.

What's the deal with APIs anyway?
APIs are an advanced feature that offer the ability to automate access to your fleet data. While Smartrak offers a whole range of reporting capabilities, sometimes organisations require additional analysis or the ability to feed data into other business systems.
Rather than requiring someone manually download the data out of Smartrak on a daily, weekly, or monthly schedule and then import it into other software packages, APIs allow the two software packages to talk automatically. This means that the relevant data can flow in and out of Smartrak as needed, saving time, and allowing employees to focus on decision making.
How do I take advantage of this enhanced API suite?
If you're a Smartrak customer that is already taking advantage of our API suite, then you already have access to these new API enhancements. Simply log into your API portal and navigate to the Core APIs. Once there, you can view the various Geofence and Groups APIs and start integrating them into your external software solutions.
If you're a Smartrak customer who is not yet taking advantage of our API suite, then we suggest reaching out to your Customer Success Manager to discuss the costs involved in setting up API access.