Modern telematics solutions offer Fleet Managers a suite of reporting and diagnostic tools. Not only does GPS pinpoint where a vehicle was, it can also provide information on driver behaviour such as excessive speeding, harsh acceleration, braking, and cornering. This data can be important in addressing staff driving behaviours, especially when they cause unnecessary wear and tear on fleet vehicles.
Often, it's just a few individuals causing the majority of infringements, incidents, and exhibiting poor driving behaviour. Unfortunately, without the ability to confidentially identify these employees, any training is likely to be less effective. You'll know you have a problem but won't be able to pinpoint who is causing the issue. And unless you can directly link an employee to a particular cause of concern, they are unlikely to alter their behaviour.
Driver behaviour provides a means to close that information gap. Suddenly every trip is attributed to an individual user, and Fleet Managers can start addressing driving trends that lie beyond accepted parameters.
Proactively addressing trends
GPS tracking opens the door to a wealth of data about how fleet vehicles are driven. While it might be tempting to comb through the data for single instances of speeding, excessive acceleration, or braking, it is rarely practical. Where the data is more powerful is looking at trends.
While speeding is never a good idea, there are occasional instances where it may be considered acceptable. For example, perhaps a driver needs to overtake a tractor on a highway, or it's an instance of slightly drifting above the speed limit before correcting. Penalising drivers for single instances of speeding can have a detrimental impact on organisational culture and attitudes towards GPS tracking. At the end of the day, you want every employee to want to drive safely. A punitive approach is rarely the right solution.
However, if the GPS data identifies a regular pattern of behaviour over a period of weeks or months, it can indicate the need for proactive action. A trend is a much more powerful call to action than a single data point. It's important to consider the human factor when looking at driver behaviour.
Dashboards make assessing individual performance easy
Having data on individual employee performance is irrelevant unless you can analyse it for key insights. We know Fleet Managers are incredibly time-poor; trawling through data points is a low priority. That's where Smartrak's Dashboard comes in.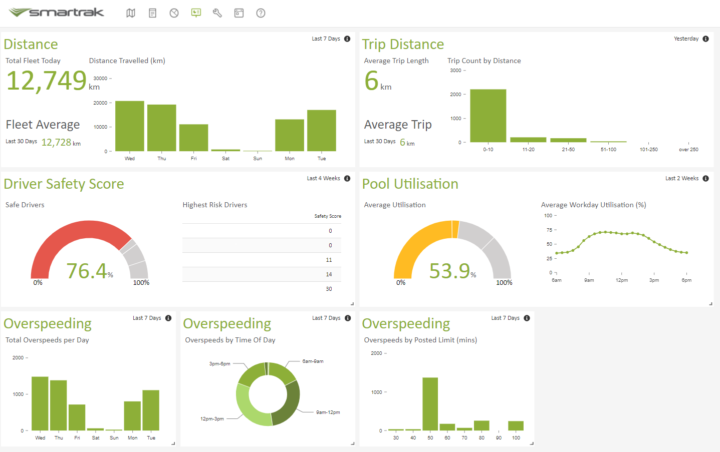 Smartrak's Dashboard provides a range of ready-to-digest insights on fleet performance. What's more, it provides a breakdown on individual driving performance through our Driver Score. This draws upon various data sources and uses a custom-designed formula to score individual drivers.
At a glance, you can see exactly who in your organisation is doing well and who might need additional training and support. What's more, once you've seen the overall snapshot, you can dive deeper into the data in order to truly understand the issues driving these scores. This helps guide your organisation towards a safer driving culture, with data being the driving enabler.
An opportunity for Healthy competition
Another way to use the data from our Driver Score metric is as a foundation for internal competitions. Friendly rivalries between departments can promote a positive safety culture, where peers encourage one another to do better. Breaking the Driver Score down either by an individual team or department has the potential to foster a sense of healthy competition.
By merging individual scores into a larger 'team score' you negate instances where individuals are singled out for their poor performance. Instead, the competition provides a positive environment that can encourage individuals to improve their driving behaviour, potentially further motivated by a bonus or reward.
As long as the focus is on celebrating success, rather than punishing individuals who aren't currently performing at their best, a competition can help kickstart a positive, safer, driving culture within your organisation.
Combining GPS tracking with driver identification in Smartrak provides organisations with the ability to identify and address behaviours that lie outside accepted norms. By doing so, it provides an opportunity to kickstart a safer driving culture that can be championed by all staff. At the end of the day, a safer driving culture ensures staff avoid accidents, and can go home safely to their families.