A key concern for pool fleet managers is whether the pool fleet will be able to meet peak demand. Fleet managers are often concerned about the response from pool users if there are no vehicles available when they need them, but they also face management pressure to reduce capital expenditure and maintenance costs for the fleet.
Solutions
The first step is to analyse the existing fleet use; the second is to look at behaviour change, business processes, etc, to reduce demand on the pool, enabling potential further rationalisation.
Smartrak's new EyeQ Insights reporting enables organisations to review their past pool fleet utilisation and immediately identify any excess vehicle capacity. This report is currently available as a professional services report by talking to your Smartrak Customer Success Manager.
In the example below, the customer could potentially reduce their fleet by six vehicles as there had never been a single instance over a 12-month period when there were fewer than six vehicles still available!
The report can encompass the unique make-up of a customer's fleet, e.g. the fleet has to have 'x' number of 4WD vehicles available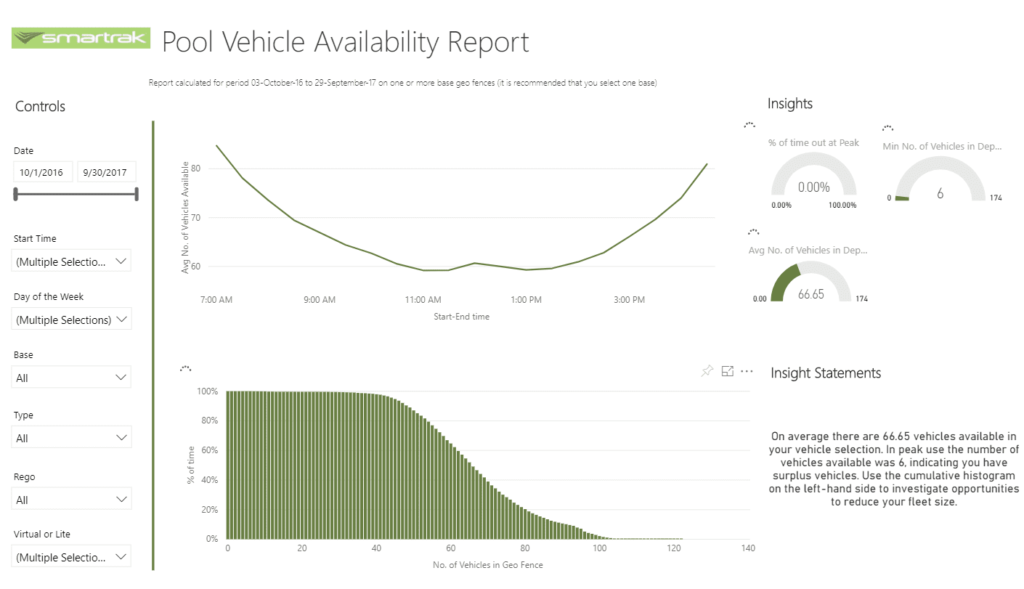 Behaviour and business process changes:
Are your pool cars regularly used to go between your company sites? If two or more users are going to the same location at the same time, Smartrak's pool booking system can be configured to enable ride sharing.
Could a regular shuttle be run between sites to cater for staff? Are your cars frequently used for short urban trips?
Peak use could potentially be managed via external suppliers that offer cars by the hour or on demand, such as Uber, Lyft, taxis or Flexicar and Mevo. Consider non-vehicle alternative transport types. Would electric bikes or public transport be suitable for shorter trips?
Peak demand management
Generally, peak demand for pool cars occurs between 10am and 2pm, Tuesday to Thursday (a broad generalisation ... your organisation may be different). Many fleet teams run as a business unit/profit centre. Could behavioural change be driven by variable charge out rates, with lower rates on Mondays and Fridays, and for earlier and later bookings? Alternatively, could a higher 'penalty rate' be used during traditional high usage times?
As a more positive reinforcement of behaviour, look at a competition to make bookings out of peak time and give prizes to the team that achieves the best track record. (Note: prizes are often very effective for rewarding good driver behaviour by teams as well.)
It's time to make a change
Smartrak offers a full suite of software tools to effectively and efficiently manage your pool fleet. Behaviour changes can help these tools continue to optimise your fleet. This optimisation ensures that your organisation runs cost-effectively and provides great service to stakeholders.
If you have any other ideas to help drive behaviour change and business process to reduce peak demand that we may have missed here, we would love to hear from you.