COVID-19 Mobile Forms
The COVID-19 pandemic is placing an enormous amount of pressure on many organisations. Fleet Managers in particular are being tasked with ensuring that fleets don't become vectors for spreading the virus. In order to ensure that this doesn't happen, Fleet Managers are placing additional checks and procedures in place to ensure their vehicles are sanitary. But Fleet Managers are already time poor. How do they ensure that procedures are being followed by staff?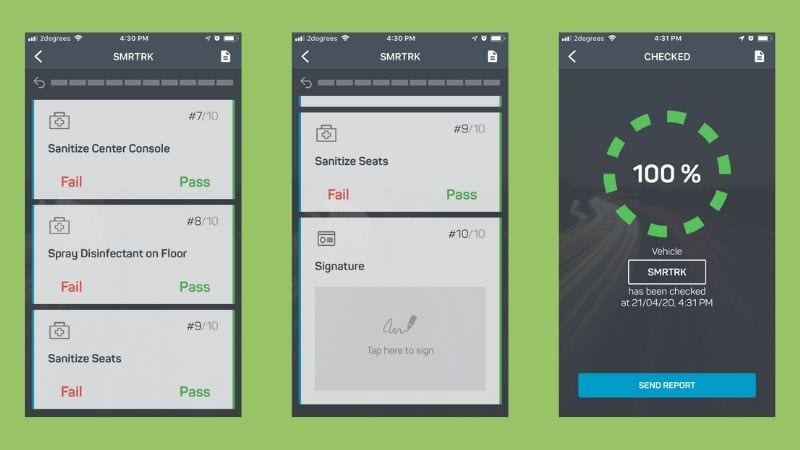 COVID-19 Mobile Forms are ready go
Smartrak understands that Fleet Managers have too much to do and not enough time to do it. As a result, we've introduced a set of standard pre and post checklists in our Mobile Forms product to ensure that vehicles are properly sanitised between trips. The COVID-19 Mobile Forms are ready to go, allowing Fleet Managers to integrate a comprehensive set of procedures across fleet operations. This ensures staff can using the COVID-19 forms to ensure the hygiene of their fleet immediately.
Organisations using Mobile Forms can access and use the COVID-19 template straight away. However, they are completely customisable if additional information needs to be captured as part of your sanitisation procedures.
Once drivers complete the checklists, Fleet Managers can run reports to see who has and hasn't followed procedure. And because the forms require a signature as part of the submission process, there is a level of traceability and personal responsibility with regards to sanitising fleet vehicles.
Mobile Forms is a completely web-based solution. This means there is no extra physical paperwork that could lead to contact transmission. Staff can access the forms on their mobile devices and computers, ensuring everything is updated in real-time and immediately accessible.
This allows organisations greater visibility over who is adhering to COVID-19 policies and ensures that staff education can be actioned where necessary. It also gives Fleet Managers the peace of mind to know that they are doing what they can to reduce the spread of COVID-19.
COVID-19 mobile forms are available now. Simply log in to your Mobile Forms and activate the COVID-19 template.