Most fleets have got the message that leaving vehicle keys on a hook in the office isn't the best way to manage them, with lockable key cabinets increasingly being used to control access to vehicles and improve security. However, while a simple lockable cabinet is an improvement compared to a peg board it still has major limitations and will fail to fulfil the requirements of a comprehensive key management strategy.
How you store and administer keys should be an integral part of fleet management, delivering benefits to both Fleet Managers and vehicle users.
The best key management strategy integrates vehicle booking and key access within a seamless process that eliminates any wasted time, responds to operational requirements, and minimises administration. The gold standard utilises online controlled key cabinets that can be placed where access to keys is most convenient for vehicle users while maintaining the control and oversight that management requires.
The vital role of key cabinets in an integrated and comprehensive fleet management strategy
1. Managing critical resources. Controlling access to keys is an important step in ensuring vehicles and other assets are available to the people who need them. An online controlled key cabinet allows managers to know where keys are, who has them and how long they are likely to be required for. This supports resource allocation, task planning, and cost attribution/retrieval.
The alternative, of employees working out the priorities and requirements around access to vehicles, plant, and equipment is an inadequate solution for all but the smallest operation. An employee cannot be expected to have a full appreciation of the requirements of other teams and they are unlikely to know task schedules that require the availability of certain vehicles.
2. Streamlining vehicle access and reducing administration. This depends on the key cabinet(s) being integrated into a fleet booking solution. The integration allows the booking solution and a key cabinet to communicate with each other, effectively eliminating the need for day-to-day management of keys. Once authorisations have been set, vehicle users simply book the vehicle they require through the booking solution and that information is communicated to the key cabinet.
Vehicle users don't need to run around trying to track down who last had the keys, they are in the key cabinet because the solution mandates their return at the completion of the previous booking and alerts management if this doesn't happen.
Automated key control, via the cabinet and booking solution, also significantly reduces the administration burden. The need for a person to be in charge of administering keys is removed, because the cabinet and the booking solution are managing access according to the access rules that have been established. If these rules need to be amended, it's once again an online process to easily reconfigure access permissions.
3. Maintaining control over dispersed fleets. An online controlled key cabinet can be located practically anywhere there is power and internet access. This is particularly relevant to dispersed fleets operating out of different locations. Having a key cabinet that's secure and integrated with the booking solution means that vehicle users have access to keys where they need them, with no reduction in management oversight.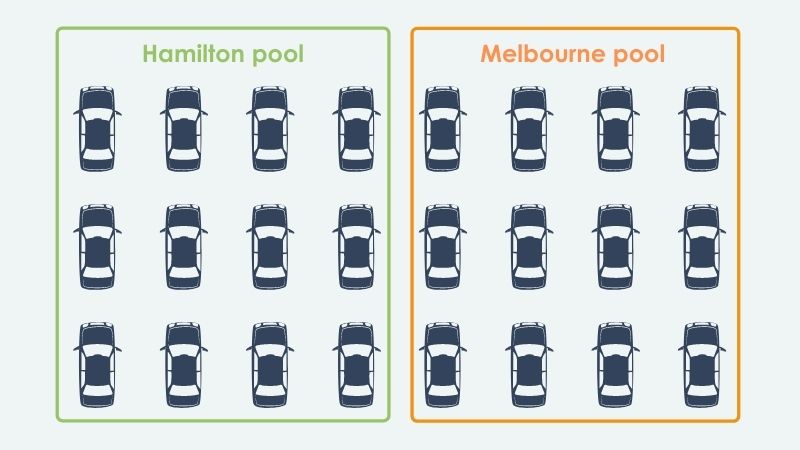 4. Making it easy for everyone. A key management solution has to be easy to use. Smartrak's KeyMaster cabinets require either an access code supplied to a user's phone or a swipe card to open the cabinet, allowing fleets to select the technology that best suits them. Once the cabinet is open, any chance of the wrong key being taken is eliminated by restraining latches securing all other keys in the cabinet and the right key being illuminated.
The same approach to a great user experience is evident in both the booking system and the management system that administrators use for setting access authorisations.
5. Providing scalability. The capacity available with the KeyMaster system can be increased by adding extra cabinets to a location. With this cost-effective solution, the original cabinet still controls access authorisations for supplementary cabinets.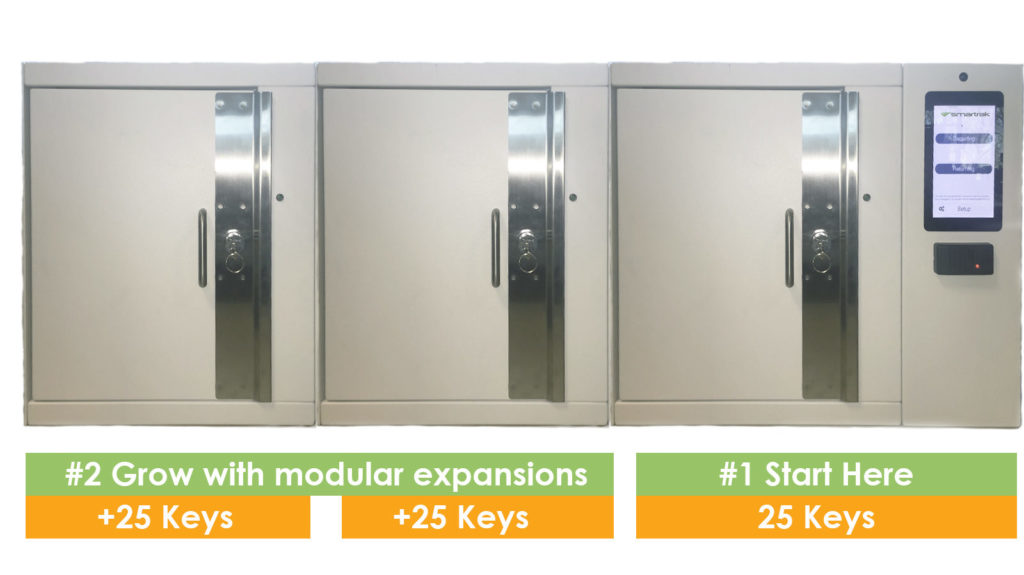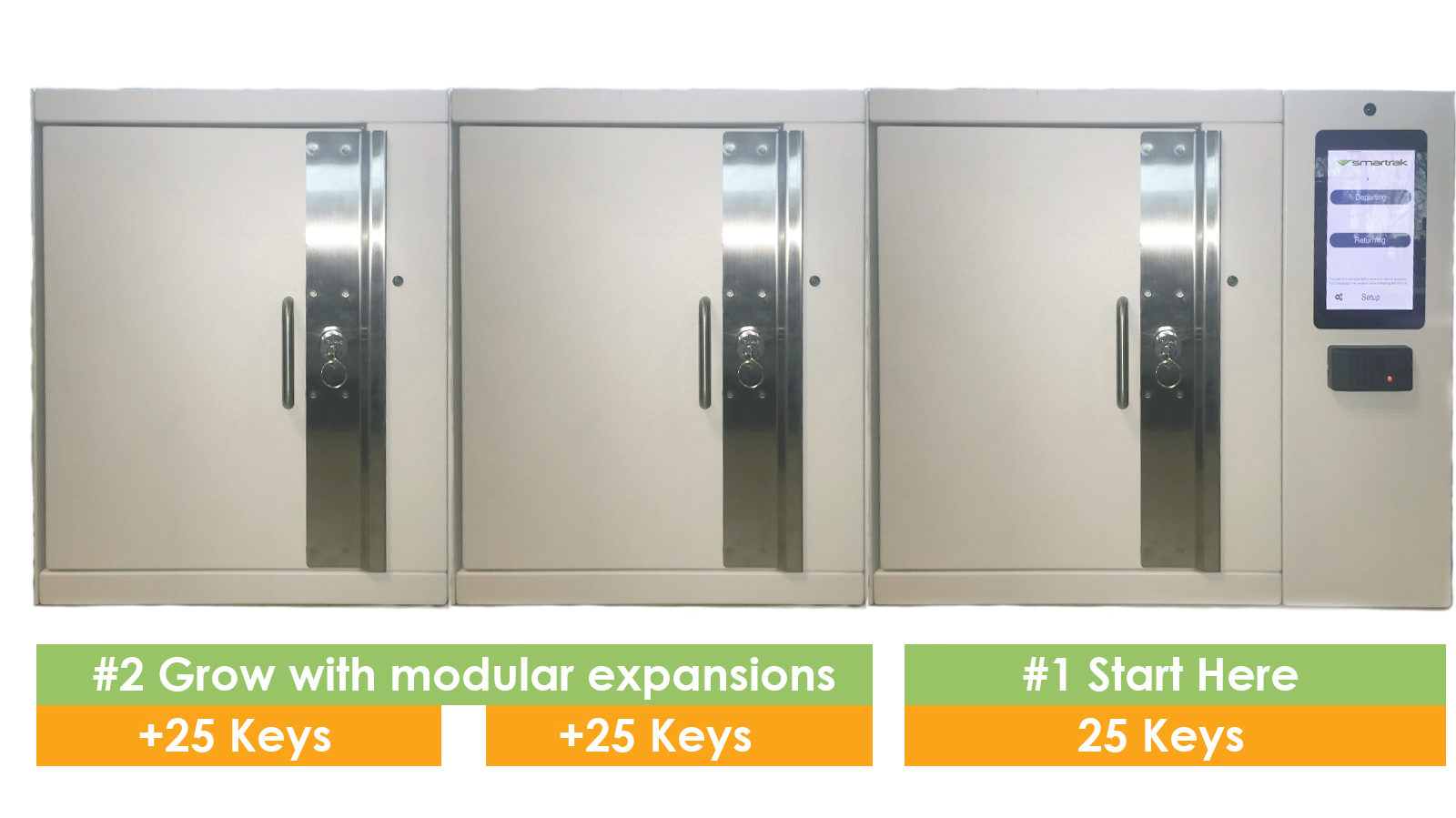 6. For safety's sake. Employers should be taking all reasonable steps to ensure an unauthorised or inexperienced employee cannot gain access to keys. Even with good intentions, moving that vehicle or plant could lead to unforeseen consequences and injury. An integrated key management solution ensures that keys are available to whoever should access to them, without compromising on key access security.
Bring the benefits of integrated key management to your fleet
Download the KeyMaster product sheet. You can also read how St Vincent's Hospital in Sydney utilised KeyMaster key cabinets as a part of their fleet management solution.