As EVs become an increasingly common feature in fleets we thought it would be helpful to get some insights from people within Smartrak who have already made the decision to go electric.
In talking to them we found that in most instances, EVs are pretty much just another way to get from A to B, that the challenges in swapping from petrol are generally imagined, and any changes to routine become just that – routine.
Today, we're talking to Jacqueline La Grand, Smartrak's Customer Services Team Lead at our Hamilton office who has been a Nissan leaf driver for nearly five years.
Why electric and why a Nissan Leaf?
My husband already had an Outlander, so I couldn't see any point in having a second vehicle that was thirsty on petrol. My requirements for a car were limited to getting to and from work and dropping my son off at school. For longer trips out of town there was always the SUV. I looked at a Jazz, but if I was going to step into a smaller car, I wanted more benefits than simply size and fuel savings.
At the time, the Leaf was practically the only EV available, so I bought a second-hand import from Japan.
Did it take much adjustment?
Not really, my workday routine is pretty much set, so putting the Leaf on charge at home every three days covered off any charging requirements. The biggest adjustment was due to the whole information system inside the car being Japanese. That stopped me accessing many of the features and even the dash swap-out I paid for did little to sort out those problems.
Any other unforeseen costs?
A new auxiliary 12-volt battery – which wasn't really unforeseen, because they are only supposed to last around three years. Other than that, a regular service and a WoF costs just $50. That's a sum that wouldn't even cover a filter change in the Ute my husband drives now.
Tyres were another standard cost that probably got a little higher than it should in the early days. The Leaf has two driving settings: Eco and Sport. Driving around in Sport definitely increases the acceleration and leaving a 'patch' when pulling away was all too easy. I tend to keep it in Eco now.
Did you invest in a special charger setup at home?
A three-pin plug through the lounge window has worked for me for nearly five years! Because my routine is so set, I really don't have any super-fast charger requirements. If I'm running low because I haven't charged up at home, a half-hour on a charger at work gets me back up to 50% battery.
What's your dream EV?
It used to be a Tesla, but a few weeks ago I parked up in the supermarket carpark to charge and alongside me was a BYD. No idea what the name means but apparently it won car of the year last year; it looks really nice and quite techy inside.
Smartrak is excited to announce that you can now pull EV charge data and display it in real-time. As the transition to EVs continues to gain momentum, having a single source of truth on the current capabilities of your fleet becomes even more important. With this update Smartrak is laying the groundwork for organisations to better manage their EV fleet.
Effortless EV data access
We are thrilled to be able to support our customers as they transition their fleets to a sustainable future. By offering the tools to better manage EVs, Smartrak eases the transition away from petrol and diesel vehicles, reducing the stumbling blocks that arise when adopting electric vehicles in fleets.
Accessing this EV data is effortless and can be done straight from Smartrak. Simply click on the vehicle of interest and select the EV Battery tab in the pop-up box.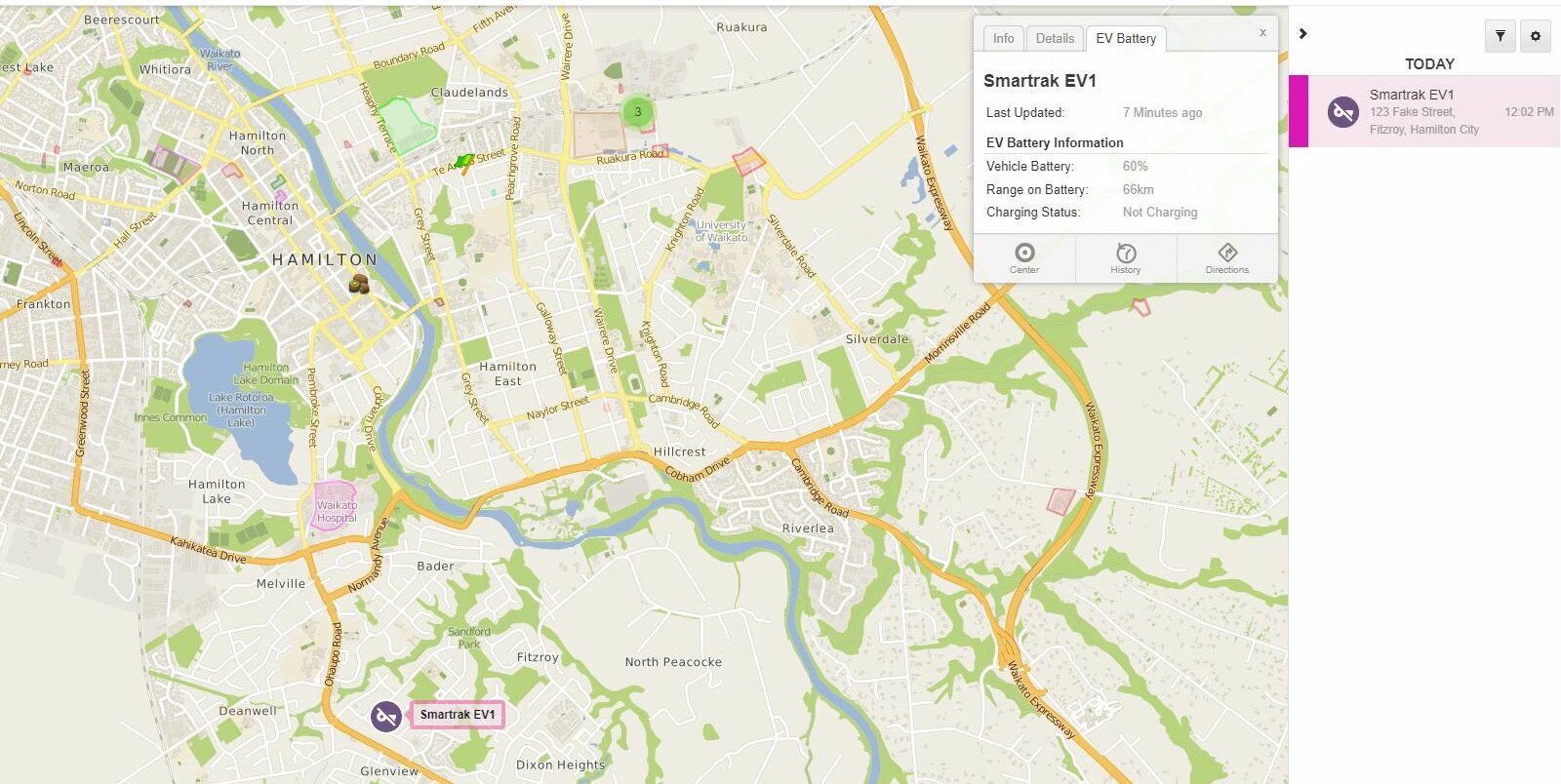 The EV Battery tab provides comprehensive real-time information on the vehicle's battery charge, current battery range, and charge status. Data that helps you proactively manage your EVs in the field.
This new capability will be available automatically for any EV vehicles equipped with our EV hardware. With insights into the battery charge state, level, and range, you'll have the power to make informed decisions for your EV fleet. Reduce the administration burden associated with managing EVs and start your journey towards a sustainable future.
If you're a current Smartrak customer, reach out to your Customer Success Manager to get the ball rolling. And if you're a new customer, fill out the form below to discuss the best solution for your fleet.
Just the beginning
We're really excited to help organisations make the switch to sustainable transportation. It's no secret that EVs will make up a sizeable portion of future fleets, and this is only the start of the journey. Keep watching this space to learn more about what we've got planned next.
If you're looking for a comprehensive fleet management solution that will streamline the management of EVs, get in touch below.
Smartrak is at the forefront of developing fleet visibility and reporting tools to enable more efficient fleet management. We're actively developing new tools that will provide the insights to identify where change can be made and the means to accurately measure progress.
One of these tools is our API suite. An API (Application Programming Interface) provides customers with a way to access Smartrak's raw data. This allows customers to share the data our solutions produce with other software packages and expand the range of options available.
We're excited to announce that we're launching two new APIs that will streamline the management of fleet vehicles and users. These are the Geofences and Groups APIs.
Geofence API
Our new Geofence API gives organisations the ability to bulk import geofences from an external database. This is especially handy if you're managing hundreds or thousands of virtual locations in your Smartrak map. It will also reduce time spent managing access by syncing updates automatically from multiple authorised parties and databases.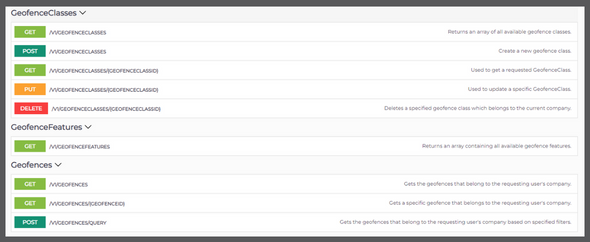 Groups API
The Groups API gives organisations the ability to assign vehicles to groups, and automatically update permissions to all authorised parties. This will reduce the time spent managing vehicles and assets when groups change and will enhance reporting capabilities and insights generation.

What's the deal with APIs anyway?
APIs are an advanced feature that offer the ability to automate access to your fleet data. While Smartrak offers a whole range of reporting capabilities, sometimes organisations require additional analysis or the ability to feed data into other business systems.
Rather than requiring someone manually download the data out of Smartrak on a daily, weekly, or monthly schedule and then import it into other software packages, APIs allow the two software packages to talk automatically. This means that the relevant data can flow in and out of Smartrak as needed, saving time, and allowing employees to focus on decision making.
How do I take advantage of this enhanced API suite?
If you're a Smartrak customer that is already taking advantage of our API suite, then you already have access to these new API enhancements. Simply log into your API portal and navigate to the Core APIs. Once there, you can view the various Geofence and Groups APIs and start integrating them into your external software solutions.
If you're a Smartrak customer who is not yet taking advantage of our API suite, then we suggest reaching out to your Customer Success Manager to discuss the costs involved in setting up API access.
Back at the start of the year we shared our thoughts on what 2022 had in store for our customers, the wider industry, and the economic environment we would be operating in. At the time we highlighted a number of aspects that commentators were talking about both in Australasia and overseas. As we're into the final days of '22 we thought a review of what we thought would happen what actually did would be appropriate.
Increased maintenance expenses: As predicted
The Supply Chain issues from 2020 and 2021 have, as expected, continued into 2022, meaning Out-of-stockorders are an ongoing feature and parts prices are going up. The shortage of technicians and the increasing complexity of vehicles requiring more highly-skilled technicians is also putting pressure on staffing. In one survey we looked at 4 out of 5 garages say repair costs are going up.
Tight supply of replacement vehicles: As predicted
Speaking to a manger for a global brand in the light commercial sector highlights what we all suspected would happen. He has orders for vehicles stretching into October 2024, because the factories can't produce the volume of required vehicles. And in a twist, he now has customers walking away from their deposits on ordered vehicles because the looming recession makes them nervous about the financial situation next year.
Once again, it's supply chain issues exacerbated by a shortage of chips for technologically advanced vehicles. This was a problem even before the war in Ukraine, but that conflict has only made the situation worse.
War in Ukraine: We didn't see it coming
The war in Ukraine has driven crude oil spikes, which generated fuel price increases for our customers. This has increased the pressure to shift away from dependence on conventional ICE fleets at the same time as supply constraints make it more difficult to source EVs. The war in Ukraine is also playing a role here by disrupting the supply of neon and palladium which are used in semiconductors; Ukraine and Russia are major suppliers of these materials, with Ukraine producing around 80% of the world's neon.
Extended lifecycle of vehicles: It could be happening
There's anecdotal evidence the shortage of supply and cost of new vehicles means more fleets are making do with aging vehicles, especially specialist vehicles that need bespoke enhancements to basic bodies. If this is the case, workshops will be charging for this, which will hit fleets in the pocket. These older vehicles are also likely to be less fuel efficient, not a happy situation when petrol prices in NZ increased by 32% over the year and were up 15% in Australia for the year.
There is an upside: if you do manage to swap out that old truck for a new one: the old truck is now worth more in a market with tight supply.
It would be interesting to hear from our customers about this topic, and whether you are using the servicing modules in Smartrak solutions to keep on top of preventative maintenance.
Increased operating costs: Absolutely
Whether it's fuel and maintenance bills, energy costs or wage pressure, the cost of operating a fleet isn't going down. And with inflation running at 7.3% in NZ and 6.9% in Australia (both 32-year highs), there's little good news to report as we enter 2023.
In our predictions at the start of the year we asked if inflation would be a 2021 issue due to demand outstripping supply, and whether fuel and energy costs would make it a persistent problem through 2022. We now know the answer to that one.
Budget constraints: Yep
That fleets should expect continuing pressure to achieve more with less was always going to be a safe prediction. The drive for efficiency is reaching into every budget and now the C-Suite has sustainability on its to-do list fleet operations will come under particular focus.
Our advice is the same as before: fleet managers need to show they are ahead of the game and better informed than the C-Suite. Get the strategy for your future fleet together over Christmas. Remember, the looming recession is sapping consumer and business confidence. In this situation people tend to sit on their hands and defer spending. Get your ducks in a row, build a good business plan for a more efficient fleet and make your move early. If you're not sure where to start ask us about the check list for your plan.
EV expansions: It's happening
On both sides of the Tasman, change is coming.
The NZ Government's carrot-and-stick approach to reducing transport emissions has driven record uptakes in EVs this year, alongside a 72% crash in UTE sales for April (admittedly on the back of a pre-tax rush to buy in the previous month). And on the other side of the Tasman, federal support for sustainable transport is finally getting in step with individual states that were previously having to forge strategies on their own.
NZ government departments and local government fleets are now on notice that transitions to EVs and emissions reporting are on the agenda, alongside an expectation that all government agencies will reduce fleet count by 20% before 2025.
Even Joe Public is getting behind the sustainability wave with one survey reporting that 81% of consumers agree sustainability adds value to brands.
Working from home: No one wants to end a good thing
A recent NZ survey found that 48% of employees would consider quitting if their employers forced them back to the office full-time.
We also know that 82% of Australian workers are working from home for at least part of the week and 64% would like to spend at least half the working week working from home.
When we made the prediction that putting the remote working genie back in the bottle would be difficult post COVID did we believe it or just wish it? Either way, it's become a bargaining chip that employees will use effectively given current labour shortages.
If this sounds like your organisation, here's the advice we shared last time.
If remote workers (even part of the time) still want the company car as part of their package. How is that use going to measured and a value placed against it? Tracking seems an obvious solution, but there are privacy concerns. Best advice here is to put in place a Vehicle Use Policy (VUP), it's the foundation of all good practice (and any technology you deploy). If you don't have one here's a link to a template that will get you started.
If your employees want to swap out that company car for cash-in-kind and use their own vehicle – that raises all the concerns about the grey fleet: safety, reliability, brand reputation, driving while impaired. Your Duty of care responsibilities don't go away – if it's used for work, it's classed as a workplace. Grey Fleet may look like a cheap and easy option to begin with but can become a management and legislative nightmare
And from Smartrak . . .
So that's the big picture, now a couple of reminders of what we've been up to during 2022.
Helping fleets transition to reduced emissions
Organisations are rapidly understanding that emissions reduction is a productivity win (green fleets save money). That's why Smartrak offers a solution ecosystem that allows fleets to move into a lower emissions environment at a pace that suits them. This approach is illustrated by two product releases during 2022: Emissions Reporting and Trip Planning.
The September release of Emissions Reporting for government fleets and early adopters in NZ has ensured Smartrak's place as a lead innovator in the sustainable transport space. Emissions Reporting automatically reports on fleet emissions using a protocol that meets international best practice. This provides measurement confidence and granular levels of detail so Fleet Managers can identify where the worst emissions are being generated.
Our new Trip Planning product was released as a Beta version during 2022 and is now undergoing further development for general release in 2023. This product will enable a hassle-free introduction to reduced emissions and future fleet capabilities for organisations that aren't ready for broadscale adoption of EVs and alternative modes of transport like micro mobility. Like all our new developments, Trip Planning ensures any technology investment today builds seamlessly in capability, so your fleet can easily step up to the next level as the need arises.
Improved integrations for EVs
Throughout 2022, Smartrak has been working on a range of vehicle management tasks that pertain to EV adoption. Visibility of and reporting on battery charge state has been of particular focus to ensure range confidence with users and to help Fleet Managers develop charging strategies.
Solutions like this are a natural follow-on from the reporting tools our customers are using in their initial evaluations of EV adoption. This work has been gaining momentum during 2022 and the capability-set available to fleets with EVs will continue to grow in 2023 as Smartrak expands on the delivery of its Sustainable Transport Vision.
Holiday reading
It's been a busy year, so there may be a few good reads that slipped through the net during 2022. Here's a selection that you really should take a look at when the rain has cancelled your beach cricket tournament.
The TasNetworks case study. Fleet optimisation, operational planning, driver fatigue, power pole heroes, and high-risk areas – all sorted with a successful deployment involving over 460 vehicles.
The Vehicle Use Policy Template. A VUP is the platform for building any fleet safety culture. As one of our people has said: "Ultimately, fleet safety is about people and policy. Technology simply provides the tools and data to help achieve positive outcomes." The VUP brings the people and what our solutions do together. It has a really important role and most of our customers don't have one. Download our template and make a VUP your New Year's resolution.
Sustainability is an increasingly important factor in how organisations operate. Governments throughout the world are pursuing efforts to mitigate greenhouse gas emissions (120 countries have announced net zero pledges). Consumers are also more aware of their role in making greener choices with products and services. Inevitably, both these factors are influencing the managers and stakeholders within organisations as they seek to keep ahead of government legislation and respond to consumer concerns.
Reducing the sources of CO2 emissions within an organisation is now, or will soon be, on the radars of most organisations, and fleet operations will be a prime focus for many.
Are electric vehicles the only answer?
Often, addressing fleet emissions concentrates on the transition to Electric Vehicles (EVs). And while EVs are absolutely an important piece of the sustainability puzzle, they aren't the whole story. This is because EVs may not be suitable replacements for certain roles, are generally still more expensive than their ICE (Internal Combustion Engine) counterparts and are in short supply due to the impact of COVID-19 and the microprocessor shortage.
Given these hurdles, some Fleet Managers could be forgiven for thinking that a more sustainable fleet is beyond them at the moment, but that isn't the case. Reducing your fleet's emissions doesn't have to be an all-or-nothing approach where EVs are the only answer. By reframing the discussion of reducing emissions to one around improving productivity, you'll quickly see that there are likely a range of 'quick wins' that your organisation can action right now.
The approach of improving productivity to simultaneously improve your bottom line and reduce emissions is the win-win strategy that helps the organisation and the planet.
Why are we talking about productivity?
It might seem counterintuitive to be talking about productivity when the outcome we're after is one of sustainability and reducing emissions. But this isn't the case at all. When we talk about productivity, we're referring to your fleet's ability to meet your organisation's operational requirements. This is measured against the various inputs required (vehicles, employees, running costs, etc.) and the outcomes achieved for that input. Therefore, if you can meet your operational demands while reducing the inputs required (vehicles and fuel), you are creating the conditions for productivity improvement alongside reductions in emissions.
Improving productivity. Reducing emissions
Naturally, there will be multiple factors unique to your situation that determine exactly what you can do, but the overall strategy is still the same:
Lift fleet management to a level where waste is reduced
Interrogate current vehicle use
Generate savings that can be re-invested back in the fleet to finance the adoption of EVs and/or hybrids
Organisations that have followed this strategy have experienced similar evolutions in productivity and sustainability, with gains generating a cycle of ongoing improvement.
The two stages of emissions reduction, as a consequence of improved fleet management
Immediate outcomes
The first set of productivity outcomes related to reducing emissions centre on reducing fuel by managing various factors that are within your control. Fuel reductions can be realised by tackling harsh driving, speeding, and excessive idling. This can be achieved by using GPS tracking to monitor driving behaviours and the reporting that's generated to educate drivers.
In addition to addressing driver behaviours, you should also look at operations to ensure efficiencies are maximised. By implementing geofences you will be able to accurately identify a range of aspects. This will include knowing when a vehicle is actually in use (left home base) and how long it's at an off-site task (worksite or customer's location). This information will help you to judge whether vehicles are being productively utilised, and whether there are opportunities to rationalise fleet size.
The reporting data on vehicle trips is also valuable as it highlights opportunities to improve task scheduling. Is excessive speeding a result of poor scheduling, are vehicles getting caught up in rush-hour traffic, will trip reporting and geofence information combine to drive further efficiencies? There is also the benefit of understanding whether a trip is really necessary and if a video conference call would have sufficed.
These insights, together with real-time tracking of vehicles will result in the leaner, more agile fleet that delivers productivity gains and savings.
Secondary outcomes
Tackling fuel-intensive behaviours and bringing in more efficient journey and task management reduces fuel costs and improves overall vehicle utilisation. This leads to a second set of productivity outcomes when the savings generated are re-invested in EVs or more fuel-efficient vehicles such as hybrids. This starts the cycle of capitalising on the work you have already done.
You could be tempted to leave it at that, but there is more your greener fleet could be doing by using the thinking that's been driving the growth of the sharing economy. Consider alternative transport options such as electric bikes or scooters, and whether including public transport is a viable offering to employees for certain trips.
These strategies will enable a shift away from a vehicle-centric fleet and ensure that vehicles are utilised as the appropriate mode for a particular trip rather than being the default option. This may sound like a move too far from a conventional fleet but there are organisations that have already made just this type of transition. An energy supplier in Belgium, Luminus, offers its 2,000 employees transport options that include taxis, scooters, shared cars, and public transport.
It's also worth noting that we have arrived at this point by focusing on productivity improvement; your fleet is on the verge of becoming a 'future fleet' simply by mastering skills that are really core fleet management capabilities.
What can you do today?
Right-size your fleet: Do you know if you have too many vehicles? Are you keeping excess vehicles in your fleet to cater for the rare occasions when you hit peak demand?
Right-shape your fleet: Do you know for certain that the vehicles in your fleet are being used for the right purpose? GPS tracking can answer whether the expensive 4WDs and SUVs are only being driven in urban areas and can be replaced by more efficient sedans or hatchbacks.
Reduce or eliminate unnecessary travel: Can the meeting be done virtually, or resolved in an email or Microsoft Teams chat?
Increase fuel efficiency: Monitor driver behaviour and keep on top of maintenance.
Use alternative modes of transport: Could employees take advantage of public transport or rideshare services like Uber? Rideshare should certainly be on your radar an easy way to satisfy peak demand.
Real-world examples
Saint Vincent's Health in Sydney reduced the fleet's vehicle count by 20 with no adverse impact on operational capability. They did this by bringing in fleet management tools that included an integrated key management system and an online booking solution for the 400 users of the pooled fleet. This was especially important as it provided 24/7 access
New Zealand's Plunket organisation which looks after pregnant women and provides early childhood care used the insights provided by Smartrak to reallocate vehicle resources more efficiently. This allowed Plunket to reduce the number of vehicles in the fleet while supporting growing staff numbers and providing services to more clients.
Ready to start turning a green issue into a money issue? Get in touch with Smartrak today to start reducing emissions and improve your fleet's productivity.
Each year, the Australasian New Car Assessment Program (ANCAP) releases updates to its comprehensive ratings system. These ratings reflect increasing expectations in vehicle safety, so a 5-star rating this year is likely to signal an improvement over the same rating from a previous year. ANCAP has just released its testing and rating criteria for 2023 which demonstrate an exciting broadening of scope when it comes to vehicle safety systems.
Pursuing passive and active approaches to safer driving and vehicles
As the independent vehicle safety authority for Australia and New Zealand, ANCAP, applies a star rating to all new vehicles which reflects the level of safety each vehicle offers. This is an important way to help consumers understand and compare the relative safety when purchasing a new vehicle. ANCAP groups its ratings into passive features, which focus on how well the vehicle protects its occupants in a collision and active systems that help to avoid collisions in the first place.
What's new from ANCAP for 2023
ANCAP has looked at how technology can be used to make roads safer for cyclists and motorcyclists, with detection technology that identifies two-wheeled road users and takes action to avoid collisions with them. A video (below) that's just been released demonstrates the incredibly fast braking when systems detect a cyclist suddenly appearing in front of a vehicle or if a motorcyclist cuts across a vehicle's path at an intersection. The reaction times demonstrated would be practically impossible for a human to equal, making this technology welcome news to all road users. In Australia, around 40 cyclists are killed every year and roughly 1,000 are severely injured. In New Zealand, a government website highlights that collisions at intersections are one of the major causes of vehicle-versus-motorcycle accidents.
All-round detection is also making it safer for cyclists to pass parked cars with a warning preventing or delaying the car doors being opened if a cyclist is detected approaching from behind.
Pedestrians are also benefitting from enhanced detection systems and improvements to impact testing that more accurately capture the effects of pedestrian/vehicle collisions.
Even the issue of children being locked in hot cars has been considered, with a system that registers someone is still in a locked car with the motor turned off. This will trigger an alarm to notify the adult who has just exited the car. More advanced systems may also automatically lower windows, switch on the air conditioning, or notify appropriate emergency/law enforcement agencies.
In a development that's especially topical for Australians, attention has been given to the plight of occupants where the vehicle is submerged, perhaps because of flooded roads (almost a third of drownings in Queensland involve submerged cars). In these situations, the waterlogged electronics may fail to operate windows or door locks. The new criteria will ensure electric windows can still function up to two minutes after being submerged and doors opened even when the battery power has failed.
Why thinking you're a good driver isn't always enough
Scientific studies have shown that 93% of us think we are 'above average' at driving. Unfortunately, with over 1,500 people killed on Australian and New Zealand roads each year, the statistics indicate that either good drivers can have bad days or many of us are not as good at driving as we think we are.
The facts clearly illustrate that driving safely for most of us is still a work in progress. Even after decades of education campaigns, road design improvements, and stringent driver licencing tests, the toll on drivers, passengers, cyclists, motorcyclists, pedestrians, and even kids in driveways is still worryingly high (in Australia, the percentage of road deaths and hospitalisations involving cyclists is actually higher than it was five or ten years ago).
That's why manufacturers and organisations like ANCAP are constantly improving guidelines for safety features in vehicles. They are creating and evaluating the technology that helps plug the gaps in our driving skills or simply our ability to focus on the act of driving – Believe it or not, 36% of drivers think they are still performing above average when texting or sending emails while driving.
Think ANCAP when thinking about new vehicles
Smartrak urges anyone responsible for vehicle purchasing to consider ANCAP ratings in their vehicle choice and we strongly recommend looking at the video we have mentioned in this blog. It vividly captures the kind of event that many of us could find ourselves in, regardless of how good a driver we believe we are.
Remember, a five-Star rating from a previous year isn't always equivalent to the 5-Star rating awarded in the current year, because the rating system reflects ANCAP's constantly updating criteria. As a result, a vehicle that received a five-star rating back in 2000 would have a lower rating if assessed today. This highlights why current ANCAP ratings should be a key metric for keeping your fleet as up to date as possible.
Vodafone's announcement that its 3G operations will cease in New Zealand from late August 2024 has brought to light an extensive programme of preparation that Smartrak has been engaged in. For the last 18 months, our Product Development and Customer Success teams have been pursuing a 4G transition strategy that will enable our customers to experience a successful transition.
Our efforts have focussed on three areas that will be critical to maintaining business and operational continuity for our customers, during the transition and beyond.
Identifying, testing, and approving suitable 4G replacements for current 3G technologies.
Enabling a seamless transition between 3 and 4G solutions.
Developing a roadmap that ensures our customers can take full advantage of the new capabilities available with the 4G upgrade.
We will also be engaging with our customers throughout 2023 to help them prepare for the transition. Through a combination of general information releases and targeted engagement via the Customer Success Managers, Smartrak will ensure that all customers are fully informed and equipped to develop successful transition plans.
The transition to 4G is an exciting development and we want our customers to be in a position where they will see the benefits 4G brings to fleet management and safety.
4G offers a substantial improvement in data speed. 4G stands for fourth generation, and it's a step-change in cellular capabilities that will make everything faster and smoother. In fact, 4G is 500 times faster than 3G, making support for high-definition mobile TV, video conferencing and other data-heavy solutions easier and quicker. For our customers, this also means better connectivity when a device is communicating from a moving vehicle, for instance.
4G opens up an exciting future of possibilities, with expanded capabilities for telematics solutions. Video capture of the events leading up to a vehicle accident, or video monitoring of drivers to identify fatigued driving or smoking in the vehicle are all opportunities that can be more easily realised with 4G.
4G offers network confidence with excellent connectivity in urban zones. And for those rare instances where 4G does not match 3G in some areas there's the new Teltonika 4G device, which automatically falls back to 2G when 4G coverage drops out. Taken as a combined offering, 4G/2G coverage is actually better than current 3G, and if there are issues in remote areas Smartrak will recommend deploying satellite or dual cellular/satellite solutions.
Introducing the AVL 4G and Teltonika 4G
Suitable 4G replacements for existing 3G AVLs have been identified and tested, with the AVL 4G and Teltonika 4G undergoing field tests on both sides of the Tasman. This has involved extensive journey testing across the North Island and a three-week deployment with Melbourne's public transport bus network.
Identifying suitable replacement devices has been a key element in ensuring a seamless system transition for customers as they swap from 3G devices to 4G.
Developing your fleet's 4G Transition Plan
Through 2023, Smartrak will be releasing information and support to help our customers develop their 4G transition plans. We understand that every fleet is different with regards to the devices deployed (tracking devices, personal safety devices, etc.) and that the 4G Transition Plan for your fleet needs to be a bespoke document. The information we are producing will take this into account. Smartrak's Help Desk will also be fully engaged in helping customers through the transition, as will our Customer Success Managers.
A FAQ sheet has been prepared to cover any immediate questions you may have; it can be downloaded here. Alternatively, you can talk to your Customer Success Manager or submit any questions via the contact us form below.
We've all had moments on the road we're not proud of. Whether it's going beyond the speed limit, cornering too fast, or slamming on the brakes when the road conditions change. What you may not realise at the time is the impact this harsh driving can have on fleets, both for an employee's safety and the bottom line. We've outlined some of the various forms that harsh driving can take, and why tackling it should be a priority.
Overspeeding and acceleration
One of the major contributors to harsh driving is overspeeding. As the name implies, this is when employees significantly exceed a road's posted speed limit. While all of us drift over the speed limit on occasion, it has to be understood that overspeeding is both a danger to employees and other road users and a cause of increased operating costs.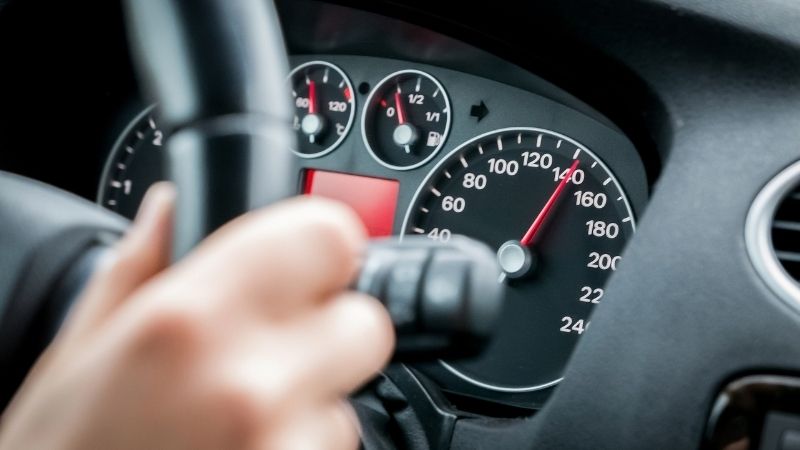 One thing to consider about speed limits is that they aren't arbitrary. They are set based on a number of criteria such as the construction of the road, its characteristics, local weather conditions, and types of vehicles using the road. This means there are legitimate reasons for the posted speed limit; it's there to keep all road users safe and to reduce the possibility of accidents. Going above the posted speed means drivers aren't giving themselves the ability to safely react to road hazards, whether that's sharp corners, pedestrians, schools, or entering traffic. This behaviour is incredibly risky and unnecessarily puts both the drivers and the general public in danger.
Another thing to consider is that speeding directly increases the likelihood of an accident. It increases the distance required to brake, it makes vehicles more difficult to manoeuvre, and increases the severity of any impact with other vehicles, pedestrians, and stationary objects. Reducing speed directly reduces both the chance and severity of an accident.
There's also a direct impact to your organisation's bottom line. Vehicles that speed consume more fuel. In fact, when travelling the same distance, a vehicle will consume 20% more fuel travelling at 120 km per hour than at 100 km per hour. That's not an insignificant amount of money when multiplied across your fleet. Plus, there's the additional wear and tear each vehicle will experience, especially if the driver accelerates harshly. And if your employees are involved in an accident, there's the potential for your insurance premium increasing.
Harsh cornering and braking
There's more to harsh driving than just overspeeding. When a vehicle corners too quickly or the brakes are applied aggressively, there are several direct impacts to your organisation.
Harsh cornering occurs when a driver takes a corner too fast. This puts unnecessary strain on the vehicle, leading to additional wear and tear on tyres and brake pads. But more importantly, if the driver isn't aware of the road conditions, there's a chance harsh cornering could lead to even worse outcomes. If the corner was taken at high speed, the vehicle might roll, injuring the occupants and potentially other road users. Even if the vehicle doesn't roll, taking a corner too fast can lead to a driver losing control of the vehicle entirely. This too could lead to an accident with other vehicles or road users.
Proactive management
One of the reasons Smarak's solutions are so powerful is that they provide the opportunity for organisations to proactively manage harsh driving. By investing in a comprehensive telematics solution, you can benchmark and monitor how your employees are behaving while on the road. This is made possible due to hardware that includes accelerometers that detect sudden changes in movements. By capturing this data, you can run reports on how harshly each vehicle is being driven.
This means you can identify instances of harsh braking, cornering, acceleration, and where employees are travelling at excessive speeds. This can directly improve your bottom line by reducing fuel consumption and costly vehicle maintenance. It also helps to keep both your employees and other members of the public safe when using the road.
If you're ready to start tackling harsh driving, get in touch below.
Smartrak's PoolCar is packed with features and it's important to us that your organisation gains the maximum benefit from our Mobility solutions. For example, while the benefits PoolCar brings to day-to-day fleet operations are appreciated by all our customers, not so many know that it's also great at supporting your organisation's strategic goals too.
Aligned to your organisation's goals
Not every organisation has the same fleet priority. Some lease their vehicles and want to ensure they're maximising value for money. Others want to limit their fleet's impact on the environment. By automatically prioritising certain vehicles during the booking process, PoolCar can align vehicle allocation with your organisation's goals. Currently, PoolCar can prioritise Lease Score, Utilisations score, or CO2 emissions.
Lease Score
When prioritising lease profile of the fleet, PoolCar calculates a lease score for every vehicle in your fleet. This is done using a formula that considers a vehicle's current odometer reading and the time remaining on a vehicle's lease term. It then extrapolates how far each vehicle will have travelled by the end of the lease and scores it via a percentage. PoolCar then ranks each vehicle's score from lowest to highest and displays those with the lowest score on the first page of the booking screen.
Utilisation Score
When prioritising utilisation, PoolCar looks at how often each vehicle is being used throughout the day. It ranks each vehicle as a percentage of daily utilisation and displays vehicles with the lowest utilisation on the first page of the booking screen.
Emissions Rating
When prioritising emissions, PoolCar will present vehicles on the first page of the booking calendar that have the lowest CO2 emissions profile. This can help organisations reach their emission reduction targets and reduce fuel costs. In order to take advantage of this feature, the emissions profile of each vehicle must first be uploaded into PoolCar.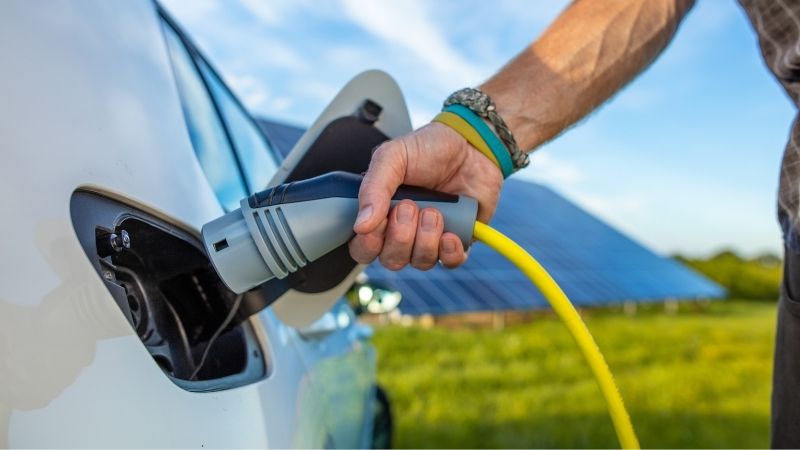 These capabilities help bring fleet strategy into the heart of vehicle operations, but they are just the start of PoolCar's journey to becoming an integral element in achieving your organisation's strategic goals.
Trip Planning – PoolCar's next evolution
When Smartrak released the Beta version of Trip Planning in March, PoolCar customers were introduced to the next level in fleet strategy support. Trip Planning builds on current vehicle prioritisation capabilities with a new user experience that makes it even easier for vehicle bookers to get onboard with management's goals.
Trip Planning will also capture more information on each trip, through a new Destination Field on the booking page. This builds on the information PoolCar is already collecting to deliver a deeper understanding of vehicle use.
Trip Planning is set to benefit fleet operations across a range of areas:
Fleet policy will be integral to the booking process.
Fleet visibility will be improved through a solution that accurately captures journey destinations. This would previously only be possible with tracking units deployed.
Employee safety will be improved by a solution that recognises high-risk destinations and includes appropriate warnings or prompts in the booking interface. This could involve notes on the destination, recommendations regarding safety equipment or if passes need to be arranged.
Journey trend identification will be a reporting gain, with accurate identification of journey destinations from every booking.
A clear picture on utilisation through accurate reporting on kilometres travelled, destination and duration of booking will support your efforts to improve utilisation.
Sustainability goals will be supported by presenting bookers with EVs and low-emission vehicles first and provide visibility of emissions ratings. Plus, the accurate distance data that's captured and calculated will inform EV adoption viability.
You can find out more about the new PoolCar booking page, be updated on release dates, or engage in a pre-release trial of the upgrade by contacting us via the form below.