The Company
With operations throughout the Far North, the Top Energy Group has interests in electricity generation, lines distribution, electrical contracting and customer contact centres. The Group's lines network stretches from North Cape down to Waipoua Settlement on the west coast and across to the Russell Peninsula on the east coast. It supplies electricity to over 30,000 consumers.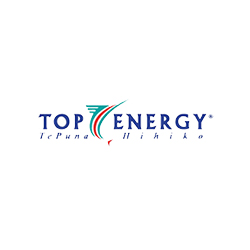 The Problem
Top Energy started looking at fleet management software providers in late 2010. With approximately 130 vehicles working throughout a large geographic area it was expected that there was room to significantly improve fleet utilisation, reduce expenses and improve customer service.
The Solution
Top Energy found that Smartrak included more features 'out of the box' than other competitor products on offer. The completeness of the solution and its proven track record were compelling reasons for Top Energy to choose Smartrak.
Top Energy has found the pool booking feature to be particularly useful in streamlining vehicle management. Significant savings in administration time have been achieved through the service tracking component of the fleet management software, while ensuring that service intervals are adhered to.
Group Procurement Manager Wayne Hunt says, "Top Energy is changing our vehicle management processes, moving from a location-centric model to a more centralised management model for compliance, maintenance and repairs. Smartrak's reporting, particularly the ability of the system to email suppliers of impending maintenance and service requirements, is excellent."
The Benefits
Smartrak's ability to report on frequency and location of use of a vehicle's 4WD system has provided significant long term savings for Top Energy. "It's played a role in providing data to rationalise the use of vehicles, and more specifically the type of vehicle. As an example, we're reducing the number of 4x4 utility vehicles in our fleet, replacing them with more economical vehicles," adds Wayne.
As with many large organisations, complaints involving vehicles can arise from time to time. Data collected by Smartrak's fleet management software has been used in these instances as part of the investigative process. Wayne says, "We've had instances where our staff were found not to be at fault, and in some cases additional driver education was required."
The key benefits have been:
Efficient and rapid response to fault or emergency calls received by the dispatch centre
Efficient deployment and redeployment of field staff and vehicles
Streamline vehicle management
Proactively target people or groups in need of driver education