We're thrilled to announce that real-time data for EVs is now available in PoolCar. This feature will give Fleet Managers and users vital information on the availability and status of each EV in your fleet, without having to guess what the battery charge is.
Managing a fleet of EVs presents a whole range of new challenges to both Fleet Managers and drivers. By combining the data from our recently launched Nextrak EV telematics solution with PoolCar, you now have the tools to manage EV charging and upcoming bookings. And drivers can be confident that the chosen vehicle will be able to do the trip it's been booked for.
Effortless EV management with real-time data
Book with Confidence
The benefits of real-time EV data also extends to PoolCar end-users. In order for drivers to actively choose and book EVs over conventional ICE vehicles, they need the confidence that the vehicle they've selected has the range for their upcoming trip.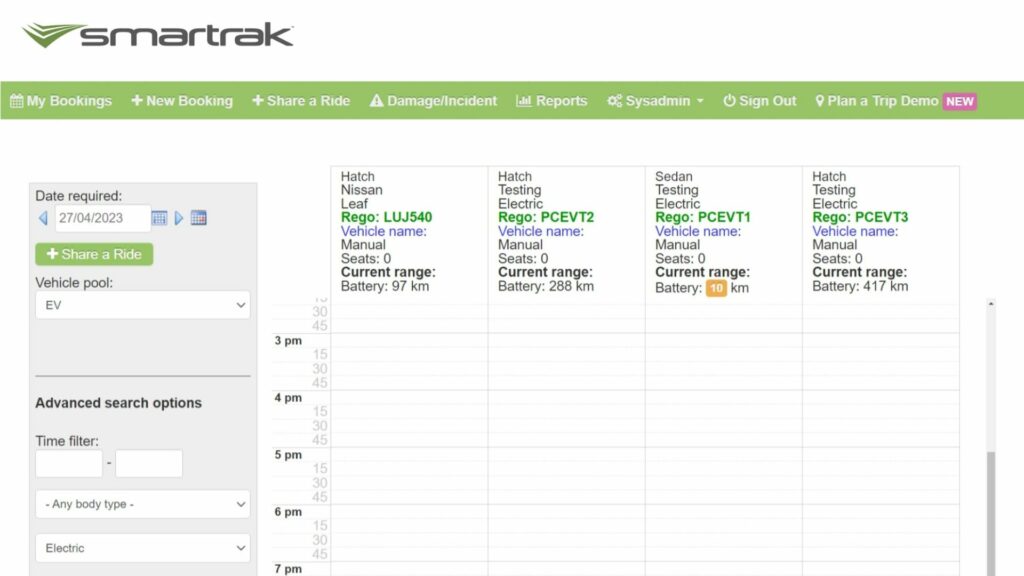 When users are searching for a vehicle, the vehicle's current range and battery charge are displayed alongside the make/model/registration at the top of the booking calendar. The information is also present when users create a new booking, to reduce the possibility that a vehicle is booked with insufficient charge.
Finally, PoolCar also prompts users at the Check In/Out screen if the vehicle is below the low-charge threshold set by your Fleet Manager. This doesn't mean that the vehicle is not capable of completing the trip but does give users an opportunity to switch to a different vehicle before commencing their journey.
Customize low-charge thresholds – Set your preferred range limit
Fleet Managers now have the flexibility to set a low vehicle range threshold according to their specific requirements. By specifying a custom distance in kilometres, PoolCar proactively notifies both admins and users if an EV's range falls below the designated threshold. This ensures that all PoolCar users are aware when an EV with low charge may not be suitable for long-distance journeys.
Gain EV insights at a glance – Monitor the charge and range of your EV fleet
To streamline EV vehicle management in PoolCar, we've developed an EV Status Report that highlights the current status of every EV in your fleet. This report will transform the way Fleet Managers oversee their EVs by visualising which vehicles are ready and charged, and which need urgent attention. It highlights any upcoming bookings within the next 24 hours that could be impacted if the vehicle's charge is insufficient.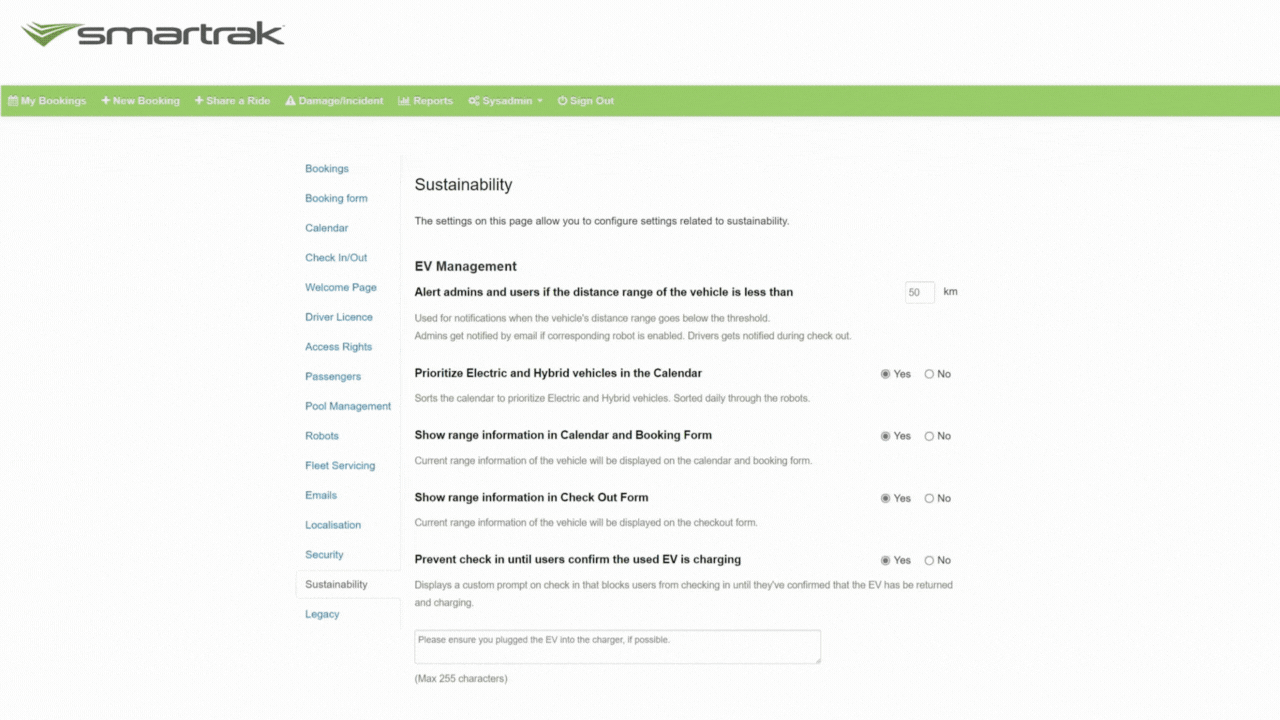 Prioritize sustainability – Let PoolCar guide you towards low-emissions vehicles
In line with our commitment to helping organisations adopt sustainable transportation, PoolCar now offers the ability to prioritise electric and hybrid vehicles in the booking calendar. By suggesting low-emissions vehicles as the top choices, PoolCar assists users in selecting vehicles that have a positive impact on reducing emissions, aligning with your organisation's environmental goals.
Enhance shared EV management with Nextrak and PoolCar
Have you already started the transition to EVs in your fleet? Are you ready to tap into the real-time EV data directly into PoolCar? This new feature is available to all PoolCar customers equipped with Nextrak, our next-gen EV hardware. If you're looking to better understand EV fleet utilisation and want the visibility that real-time data can bring, get in touch with us today.
Smartrak is committed to driving the growth of electric vehicles across our customers fleets to promote sustainable transportation. We're thrilled to finally make this feature available to our customers. Let's work towards a zero emissions future together.
Get in touch to organise a demo
PHNjcmlwdCBzcmM9Ii8vZ28uc21hcnRyYWsuY29tL2pzL2Zvcm1zMi9qcy9mb3JtczIubWluLmpzIj48L3NjcmlwdD4KPGZvcm0gaWQ9Im1rdG9Gb3JtXzEyOTgiPjwvZm9ybT4KPHNjcmlwdD5Na3RvRm9ybXMyLmxvYWRGb3JtKCIvL2dvLnNtYXJ0cmFrLmNvbSIsICIwNDAtU01TLTg5MCIsIDEyOTgpOzwvc2NyaXB0Pg==
Get in touch to organise a demo
PHNjcmlwdCBzcmM9Ii8vZ28uc21hcnRyYWsuY29tL2pzL2Zvcm1zMi9qcy9mb3JtczIubWluLmpzIj48L3NjcmlwdD4KPGZvcm0gaWQ9Im1rdG9Gb3JtXzEyOTgiPjwvZm9ybT4KPHNjcmlwdD5Na3RvRm9ybXMyLmxvYWRGb3JtKCIvL2dvLnNtYXJ0cmFrLmNvbSIsICIwNDAtU01TLTg5MCIsIDEyOTgpOzwvc2NyaXB0Pg==
Get in touch to organise a demo
PHNjcmlwdCBzcmM9Ii8vZ28uc21hcnRyYWsuY29tL2pzL2Zvcm1zMi9qcy9mb3JtczIubWluLmpzIj48L3NjcmlwdD4KPGZvcm0gaWQ9Im1rdG9Gb3JtXzEyOTgiPjwvZm9ybT4KPHNjcmlwdD5Na3RvRm9ybXMyLmxvYWRGb3JtKCIvL2dvLnNtYXJ0cmFrLmNvbSIsICIwNDAtU01TLTg5MCIsIDEyOTgpOzwvc2NyaXB0Pg==