Telematics solutions are a fantastic way to understand how the vehicles in your fleet are being used on a day-to-day basis. They can detect speeding and when a vehicle is being over-driven, including through harsh acceleration, breaking, or cornering. While this information is important to Fleet Managers, without the ability to know who was driving at a particular time, getting to the bottom of risky driving behaviour can be challenging. That's where Driver Identification comes in.
ARE YOU STARTING FROM SCRATCH?
We talk a lot about the importance of choosing a solution that streamlines fleet management and simplifies everyday tasks. Sometimes it is as simple as finding better ways to track your fleet instead of using a Microsoft Excel spreadsheet, or booking pool vehicles in a shared Microsoft Outlook calendar.
When it comes to identifying who is using a vehicle at a particular date and time, there are several avenues you can take. The important takeaway is that regardless of the method you choose, you can start putting the pieces of the puzzle together. Pretty soon, you'll be gaining a much better picture of who is driving which vehicle at any time.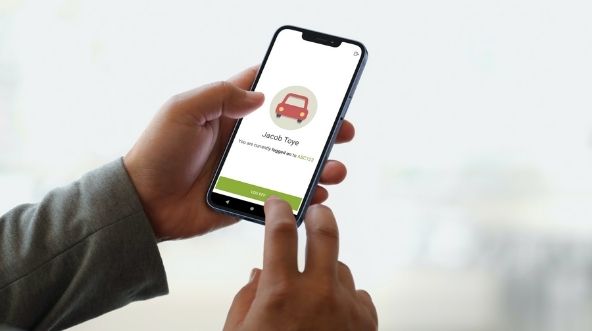 GOOD – IDENTIFY
Someone once said, 'there's an app for that'. It's fair to assume that most employees have access to a smartphone. We developed the Identify app to provide a lightweight solution for organisations that already have a Smartrak telematics solution installed. Drivers simply open the app and log on to the vehicle they're about to drive. This will be paired with trip data in Smartrak, so organisations can track who was using a vehicle at any time. Identify is perfect for organisations that want to start capturing driver identification data, without all the bells and whistles that come with some of our more comprehensive solutions.
An alternative to Identify is the Smartrak's iButton. This provides similar functionality to Identify but is a physical device. Employees must place the iButton on a digital reader installed in each vehicle before driving. Each iButton is unique and is registered to an individual employee.
BETTER – POOLCAR
A better option for driver identification is through the use of a pool vehicle booking solution such as PoolCar. The reason that PoolCar is a step above Identify is that it opens the door to a whole suite of booking smarts and automation. Automating processes removes the burden placed on administration staff to ensure vehicles are available and that staff have permission to drive them. Because bookings are visible to all users as soon as they are created, it eliminates the issue of staff accidently double-booking a vehicle. It also provides the ability to capture trip data, such as additional passengers, intended destination, and cost centres.
Another advantage of PoolCar's automation is the fact that drivers don't need to remember to log-on and log-off. PoolCar has a default booking length that can be extended by users when required. When the booking start time is reached, the vehicle is automatically checked out. At the end of the booking, it will automatically be checked-in again. This eliminates situations where employees forget to log-off, stopping others from booking that particular vehicle.
BEST – POOLCAR + KEY MANAGEMENT
The best approach to driver identification would be to supercharge PoolCar through the implementation of a key management solution such as KeyMaster or Keyless Entry.
The reason key management takes driver identification to the next level is because it identifies exactly when the vehicle is checked out and checked back in. By tying check-out and check-in to the physical process of taking and returning keys, you close the loop on where exactly a vehicle is.
For example, say a vehicle has been booked out for an entire day, but in actual fact the employee only needs it for an hour in the morning and they've booked out the whole day 'just in case'. The act of returning a key to a KeyMaster cabinet at the end of the trip finalises the entire booking (regardless of how much time was remaining on the booking). This means that the vehicle booked for the entire day is immediately freed up and can be booked by other staff members. And if the employee needs it later, they can just jump back into PoolCar and create a new booking.
The other reason Key Management is so powerful is that it eliminates situations where staff collect the wrong vehicle keys. The KeyMaster will only release the key that is associated with the vehicle that has been booked. And if you don't have a valid booking, you can't take any key at all. This also adds a layer of accountability to whoever made the booking, as they will be held responsible should the keys go missing. This is especially relevant should someone else be asked to drive during the booking.
DRIVER-BASED REPORTING
It's worth remembering that any form of the above methods of driver identification are better than none. This is because by doing so, you gain access to Driver Based Reporting. Smartrak has the ability to attribute trip data from our telematics solutions to individuals within your organisation. This means that you can start understanding how each driver is behaving. Our Dashboard gives fleet managers a snapshot of how individuals are performing. There are also several reports that can be run to enable more in-depth analysis of individual driving trends.
Driver identification is a fantastic way to take your telematics solution to the next level. With multiple ways to capture the relevant data, there's never been a better time to start. Talk to us about driver identification today.